16
« on: August 14, 2005, 11:10:09 pm »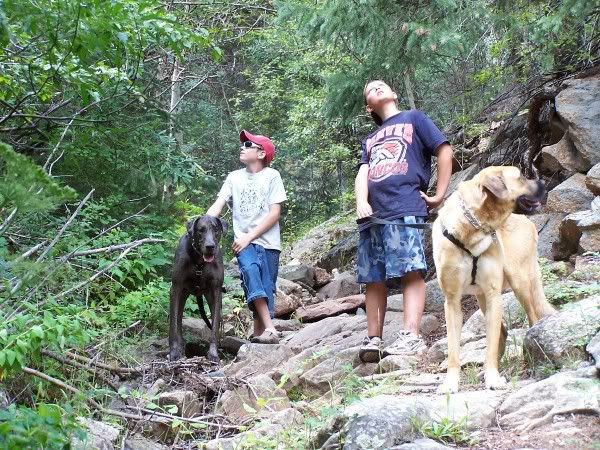 As far as we know, Phyfe (mastiff/st.) spent the first year of his life outside on a horse farm. He was perfectly content to flop down wherever, in the damp pine needles or wet grass, and happy to walk around and get his paws full of gushy mud (for later distribution into and on the human kids beds LOL).
Earnest, however (my spoiled-since-a-pup lab/dane) was, as the saying goes, NOT a happy camper. He loves hiking, that's what I raised him for, but he didn't like sleeping out one bit. He has the typical Great Dane fastidiousness
. He doesn't like yucky stuff on his feet, wet grass, or cold. Although his Lab half makes him love swimming, he only likes it on hot days, and preferably in a heated pool. Even with his own sleeping bag he complained. He put his chin on my cot with his nose next to my ear and moaned and groaned at intervals all night. During the day we strung a tarp over the picnic table and spent quite a bit of time sitting around it waiting for the showers to stop. Earnest would wander out of the tent (where he tried laying on my cot and collapsed it) and under a corner of the tarp. Then he looked with contempt at the choice of places to park his butt, and heaved a huge sigh before he deigned to sit down in such unsatisfactory circumstances.
He couldn't have said it plainer if he could speak human:
"Mom, outside at home we have grass, our own playhouse, and a beach umbrella for shade, and we NEVER stay out in the rain. Inside I have my own twin bed next to yours, Scooby-doo sheets and my own comforter- what the heck is this deal, and why are we doing it?"
The human kids didn't like it much either, guess Phyfe and I will rough it alone next time.
Here's Earnest in his element at home- I just told him he needs to get up and go potty so I can give him breakfast and leave for work:
What a diva!!!